Sheriff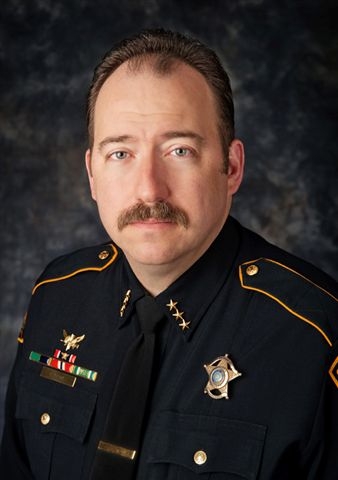 Kelly Rowe was born in Fort Worth, Texas on Friday, September 13, 1968. In 1993 he began his career with the Midland County Sheriff's Office. Kelly Rowe began his tenure with the Lubbock County Sheriff's Office in 1999 as the Administrative Lieutenant of the Detention Division. He was promoted to the rank of Captain in the Detention Branch and later transferred to Law Enforcement. Shortly after, he formed the Transition Team and selected the initial staff and would ultimately be responsible to ensure that oversight and all tasks were completed to facilitate a smooth transition into the new facility. Kelly then was promoted to the position of Chief Administrator which had overall fiscal responsibility for all Sheriff's Office budgets and funds. In addition, he was member of the Tactical Operations Unit and was the Commander of the Honor Guard until his appointment.
On September 16, 2009 he was appointed by the Lubbock County Commissioners to the position of Sheriff. Then on March 3rd, 2010 Kelly won the Primary election for Sheriff of Lubbock County.
Sheriff Rowe attended high school and college at New Mexico Military Institute. He entered into military service in the United States Army. In 1992 he attended and graduated from the Basic Peace Officers Academy in Midland, Texas. Sheriff Rowe is married to his wife, Nola.
---
Summary of Qualifications

1992-1993

Permian Basin Law Enforcement Academy

: Peace Officer Academy

1993-1999

Midland County Sheriff's Office

: Began as Deputy Sheriff, then promoted to Corporal and eventually Sergeant of Detention (Shift Commander). Served as a sniper on Tactical Operations Unit for three years and worked evening patrol.

1999-2009

Lubbock County Sheriff's Office

: Served as Chief Deputy of the entire Sheriff's Office. Hired in 1999 as Assistant Jail Administrator as Lieutenant, and later as Captain in the same capacity; Captain of Law Enforcement, then as Chief Administrator, which oversaw the budget for the entire department and was Chief Deputy of Detention.

2009 -present

Sheriff of Lubbock County, Texas

1985-1989

New Mexico Military Institute: Squadron Commander, (Commanded largest squadron, over 250 cadets in my command)

1989-1992

United States Army

: Fire Team Leader, Light Infantry, 25th Infantry Division, Schofield Barracks, Hawaii.

1985-1987

New Mexico Military Institute: High School

1987-1989

New Mexico Military Institute:

Junior College

Professional Memberships &Committees

1999-Present

Texas Jail Association

-(2006 President)

1999-Present

American Jail Association

2003-Present

Sheriff's Association of Texas

2006

TCJS Committee to Study Jail Staffing Ratios

2009-Present

Board Member, Lubbock Emergency Communications District

2009-Present

National Sheriffs' Association

2009-Present

Texas Corrections Association

2009-Present

Lubbock Chamber of Commerce
National Memberships & Speaking Opportunities
Testified before the Texas State Legislature to prevent the abolishment of the Texas Commission on Jail Standards that would have placed regulatory control over county jails under the Texas Department of Criminal Justice.
Invited to speak on a panel based on my expertise on "Innovative Jail Design and Operations" at the National Press Club in Washington D.C. Participated in national training video for the National Institute of Corrections for "Planning of a New Institution."

Guest speaker at the American Jail Association Annual Conference on Managing Budgets in Times of Deficit Economies.
Member of the Large Jail Network (by invitation only: Bi-Annual meeting of representatives of largest facilities throughout the country to discuss current issues involving jail personnel, administration and other issues.
Was a member of the development staff and a speaker for the Basic Jail Administrators Course at the Correctional Management Institute of Texas at Sam Houston State University.
Contact Us
712 Broadway, Lubbock, TX 79408
In This Department
In this Department
More Information