County Judge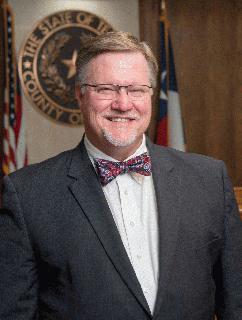 Lubbock County Courthouse
904 Broadway, Suite 101
Lubbock, TX 79401
---
The County Judge is the most visible official in county government. Often thought of as the county's chief executive officer, the Texas Constitution vests broad judicial and administrative powers in the County Judge, including serving as the presiding officer of the county's policy-making body, the Commissioner's Court, which is responsible for budgetary matters and administrative duties for Lubbock County.
General County Administration as provided by law, including:
Director of Emergency Management
Prepare County budget for approval by the County Commissioners
Preside over Commissioners Court
Conducts mental competency hearings and other mental health related duties prescribed by law
Serve on Juvenile Board, SPAG Board, Bail Bond Board, and others
Responsibilities associated of holding elections
Give notice of public hearings
The County Judge also handles widely varying judicial matters such as conducting hearings for probating the estate of a deceased person, establishing guardianships for incapacitated persons and minors, and presiding over civil commitments to mental hospitals. The County Judge is also responsible for emergency management, calling elections, and representing Lubbock County in many administrative functions.
Contact Us
904 Broadway St, Lubbock, TX 79401
Phone:

(806) 775-1679

Fax:

(806) 775-7950
Office Hours:
Hours of Operation: Monday - Friday
8:00 AM-5:00 PM
Closed from 12:00 PM to 1:00 PM
In this Department
Related Pages
More Information